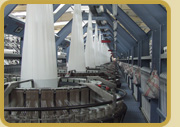 WEAVING
The tapes which pass the tests applied an are in accordance with the quality standards are woven as tubular in the requested width on the weaving looms.
For the applications of flat fabrics, the ultrasonic edge-cutting systems on the looms are put into service and the fabrics are made open through their edges.
By means of width and weight controls, the necessary interventions are made just on time and defective production is stopped.